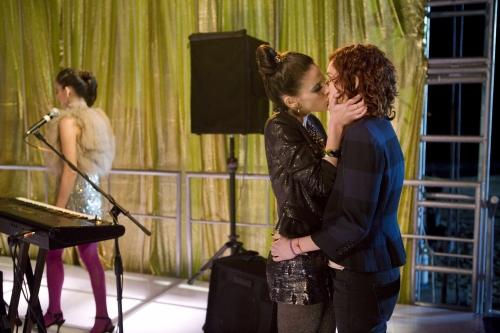 After returning from my honeymoon, I was hoping to tune in to a welcoming, enjoyable episode of 90210.
But "Sweaty Palms and Weak Knees" was NOT it. Here's why: It moved plots and characters along far too quickly, while also tossing around far many silly, illogical developments. Need a case in point:
Concerned about Jasper, Annie rushes over to his room, spots a photograph of her with the Hollywood sign in the background - and somehow discerns that must be where he's at?!? Considering the structure is only 45 feet high (thanks, Wikipedia!), seems like an unusual place for a suicide attempt.
At least this relationship seemed to finally come to an end this week, as Annie did give an intelligent, mature speech to the broken-legged Jasper. That was nice to see. But was anyone else dismayed and annoyed by the entire way this storyline played out?
To Read More Click Here.