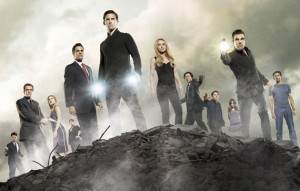 It's about time, I'll say! It was announced today that NBC is indeed cancelling Heroes. No surprise there — the series has been lagging in the ratings since its third season, and its fourth received such dreadful ratings that a cancellation seemed inevitable, despite rumors that NBC would pick the series up for one fifth and final season. Obviously, this did not come to pass, and Heroes has died out.
Many would trace the root of the series' woes back to its second season. Perhaps if they wanted to go further, they could even take it to season one's lackluster finale, which set the stage for an absolutely awful season two and the beginning of a decline throughout the next two years. Stale storylines and bland characters definitely didn't help anything for the show, which had become a cult favorite during its stellar first season. Iconic characters such as Masi Oka's Hiro Nakamura were featured in the show, and science fiction alumni like George Takei and Malcolm McDowell had occasional guest spots as important characters, though even they weren't enough to keep the viewership from dwindling.
To Read More Click Here.