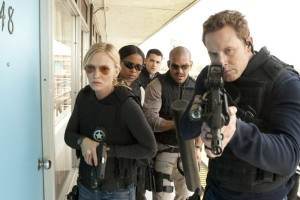 Yes, Virginia, it's another Jerry Bruckheimer show.
I can't even begin to list all the TV series that Bruckheimer has been involved with since CSI. I can tell you that some were good (Cold Case, Without A Trace when it wasn't digressing into who was sleeping with whom) and some weren't (The Forgotten was quickly just that). His latest entry is Chase (September 20), which drops squarely into the oversaturated landscape of TV crime shows as the third show to feature U.S. Marshals (following In Plain Sight and Justified). These U.S. Marshals are tasked with fugitive recovery, going from their Dallas home base to anywhere in the country in order to bring down the worst offenders, since doing a show about chasing down bail-jumpers or deadbeat parents would be beyond the scope of dramatic television.
To Read More Click Here.