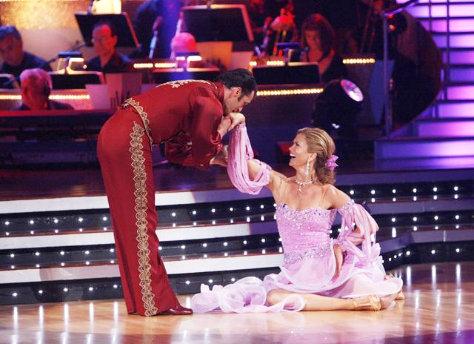 The 14 couples get cut to 13 as a third celebrity gets ousted on Dancing with the Stars through a new elimination format. Whose time is up? Find out below!
So word is there is a "shocking" elimination this week, according to Kelly Osbourne's Twitter. But I think the most shocking things about this episode so far are 1) Mickey Rourke's in the house (he's supporting his boy Chuck) and 2) Samantha's hair. What curled up and died there? Or did she stick her finger in a socket? I think it's growing by the second. In any case, I take the term "shocking" with a grain of salt here, since with so few standouts so far, the only true shockers would be Aaron, Mya or Donny - and I don't think any of them are going anywhere. I don't think it would be shocking if any of the others were booted, just disappointing. It just sucks for them since the scores were so close.
After Mya and Dmitry's jive encore (biased, Baz?), Sam tells us we will learn who the bottom two couples are. No more "in no particular order" - for now.
''First three safe couples:'''
Donny and Kym
Mya and Dmitry
Aaron and Karina
After Joss Stone belts one out for us, we get a look at the new Dancing training center, where everyone spies on each other and the walls quite possibly feature all of the 64 Crayola crayon colors. How totally pissed off did Natalie look when Derek burst in on her rehearsal? It's probably scripted, but I hope it's not. Don't mess, D.
To Read More Click Here.