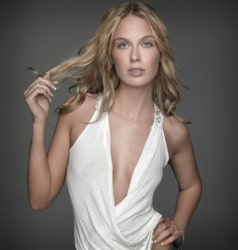 Winning America's Next Top Model apparently gives one the right to trash someone else's home, or maybe that's what CariDee English thinks. Nowadays, she's being called "America's Next Top Slob," but before we jump to that, let's go over the gory details.
According to New York Magazine, CariDee English reportedly subleased a Brooklyn apartment for two weeks through Craigslist. A deal was struck, but the two parties didn't really meet face-to-face. When the owner returned home, she found that it was beyond anything she could ever imagine. She even denied CariDee's deposit back.
The furious lessor sent an e-mail to the America's Next Top Model winner, stating her case. While it sounds like she's really accusing CariDee English of trashing her apartment, the message also seems like a desperate plea for attention. Honestly, there's no way this can be taken seriously.
"Ryan and Caridee," the note began. "I was shocked when I returned home yesterday to find a hole in the middle of my living room wall that was made during your stay. Coincidentally it's about the same size as the remote control, which is also broken. For this, I will be keeping your deposit."
The e-mail also went on to discuss "fake orange tan dust all over everything" as well as "short black hairs all over the bathroom." There were also accusations of having "black sludge and lipstick smeared along walls."
The writer of the note found the whole scenario "both puzzling and sickening," and even informed Perez Hilton of the situation. It's one of the reasons why many don't believe the story is true. If only there was photographic evidence to support this whole mess.
"Take responsibility for your profoundly tantastic lives," the e-mail continued. To read the full message, click here.
Upon finding out about the news, CariDee English rebuffed the story and said that they were "extremely false" claims. Whether or not her living habits really are that chaotic, she'll probably be staying away from Craigslist for the time being.