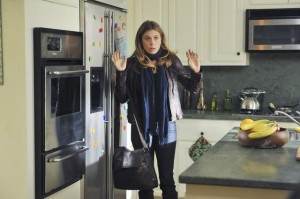 Did you miss last week's rather excellent episode of FlashForward, "The Garden of Forking Paths?" If so, read a recap here.
This week's episode begins with Janis, speaking in a voiceover over a scene of FBI agents running the six-mile obstacle course "Yellow Brick Road," describing how she joined the FBI. She never intended to join the FBI; she was a lawyer who hated her life. She wanted to do something patriotic. A friend, Demetri, got her to apply to eh Bureau, and she loved every second of it. She was not doing something that mattered. It is revealed that Janis is speaking two years before the blackout, to a woman named Leda, a headhunter. Janis tells her that she's not looking to quit the FBI, which she just joined. Leda tells her that she has an opportunity for Janis, and doesn't want her to quit. Rather, Leda's offer would be more like multitasking.
To Read More Click Here.