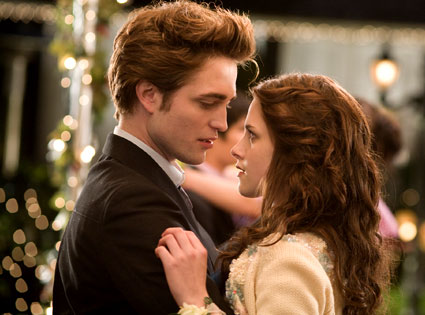 The best parties don't get started until way past Twilight.
Summit Entertainment announced Tuesday that the teen-vampire romance will be available for your home-swooning pleasure March 21 in a two-disc, extras-laden, special-edition DVD set.
But the makers of Twilight don't just want you walking into any old big-box store whenever. Those DVDs are gonna be ready at midnight sharp - on a Saturday. (DVDs usually drop on Tuesdays.)
Which means you're being encouraged to put on your Edwardian-era formalwear and party like it's Nov. 21, 2008, when the fans came out in droves - starting at midnight - to give the film a $35 million opening day en route to a $70.6 million first weekend.
Bonus features included on the dual Twilight DVDs include audio commentary by Kristen Stewart, Robert Pattinson and director Catherine Hardwicke; a seven-part making-of documentary called The Adventure Begins: The Journey from Page to Screen; a featurette about the film's big splash at Comic-Con; extended and deleted scenes; and three music videos from Muse, Paramore and Linkin Park.
Kind of gets your blood pumping just thinking about it.