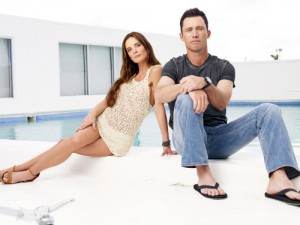 There are a lot of things I've learned from watching Burn Notice: how to make explosives, how to escape a parking garage, how to spyproof my office…and that Garret Dillahunt may be the best actor to play bad on television today. He's done it on Deadwood, The 4400, Terminator: The Sarah Connor Chronicles and most recently this show, so I'd been hoping he'd come back as the villainous Simon Escher all season long. Add him to a regular cast without a weak link, and how could this episode not succeed?
As we know, Michael is preparing for his face-to-face with Simon, arranged by Vaughn last week. He can't possibly prepare enough for dealing with that psychopath. At least Vaughn arranged it at a pretty swanky place (and brought security). Michael goes to meet Simon, who appears to be auditioning for the role of Jesus with his new look. Rather than play nice, Simon decides to tackle Michael through a window instead, but very quickly gives Michael some information about locating an audiotape that he has buried. Obviously, he wants to know who's after his Bible just as much, or he wouldn't have bothered. If these are people Simon is concerned with, I'm more than a little bit scared of them.
To Read More Click Here.