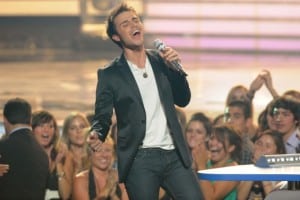 When the top 36 of American Idol was announced this season, I had no idea who Kris Allen was. He looked like he was destined to be a red shirt, one of the generic, nameless faces who gets one chance before getting eliminated.
Kris Allen was facing the likes of Adam Lambert, Danny Gokey and Lil Rounds, all of whom received a ton of screentime in the early auditions and were the clear favorites when the real competition began
Yet against all odds, this dark horse emerged victorious. How did season 8's David slay the Goliaths? As I see it, there are five simple reasons for his success and eventual victory.
1. Cuteness
Though Simon Cowell criticized him at first for having a wife, that fact didn't deter Kris Allen from winning over people with his down-home good looks. This Arkansas native has the perfect looks that made women swoon. He's pretty without being metrosexual, he's handsome with being hunky, and he's youthful without being a tween. Kris Allen was the adorable little kitten of season 8, and nobody hates a kitten.
2. Likability
Adam Lambert has a huge voice and a somewhat wild life. While it's exciting, it's not relatable Kris, on the other hand, is charming and disarming. His "aw shucks" attitude makes you like him even more, and while Simon criticized his dorm-like performance on the finale, that's exactly the kind of thing that makes everyone like him even more.
3. Multiple Talents
Ever since American Idol let contestants use instruments, it's been a great advantage. In the final performance, Adam Lambert sang three songs. Kris Allen sang and played the piano and guitar. His range and versatility as a musician helped him stand out in the crowd.
4. Artistry
Kara DioGuardi's watchword of the season, Kris Allen epitomized this concept. Every week, no matter how much he changed up an arrangement, the song was unmistakably his. Kris Allen has a clear sense of who he is an artist, something many other contestants lacked. I've frequently pointed out that if you compiled all of Kris' performances from this season on a single CD, it would be cohesive and great. If you put all of Adam Lambert's songs on a CD, it would be a random hodgepodge of insanity with no clear concept or idea. Some of it was shouting, other parts are soft and quiet, and other parts included sitars.
5. Going Last
I may put too much emphasis on this, but I do think that going last gives any singer a huge advantage in this competition. Leaving the last impression is very important, and especially since the finale featured the two men singing the exact same song. Adam Lambert was OK, but then Kris Allen got to sing it and that was the last song dancing around voters' minds before texting in their picks. I honestly believe that if the coin had flipped the other way, there's a possibility Adam could've won simply by going second instead of first.
So as you can see, it was a perfect storm. A cute, likable guy who can play a lot of instruments and knows exactly who he is as an artist won a coin toss, and that's how Kris Allen won American Idol.