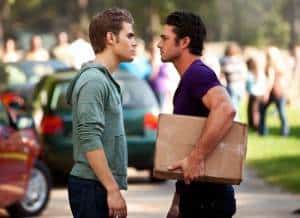 On this week's Vampire Diaries, one person's secret was found out, another's past explained, and another twist revealed.
The episode opens in a flashback outside a bar with some dude picking a fight with Mason Lockwood. Naturally, Mason gets a little too angry and ends up killing the guy. His eyes are all yellow and it seems the curse has been triggered. In the present, Mason is explaining to his nephew Tyler how any death on his hands will trigger the curse.
Stefan and Elena have to continue to fake-fight in order to keep Katherine at bay. The lovebirds can't bear it, so they make up code words that really mean "I love you." How cute. The fake fight carries on when the group, Caroline's mom included, volunteers for the day at the Historical Society. There, Stefan and Mason meet for the first time. Stefan offers up a truce, but Mason says he already tried that. "Tell your brother to watch his back," he says. "There's two of us. I think you're the one who needs to watch his back," Stefan warns.
To Read More Click Here.