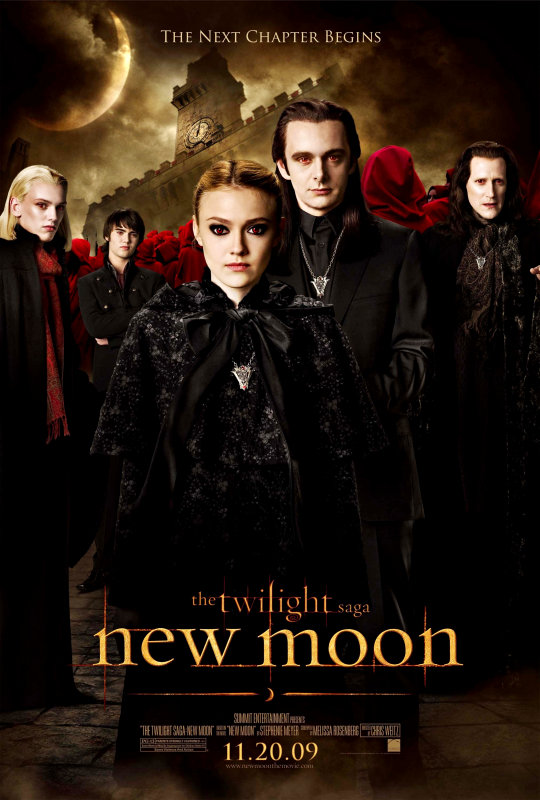 As the anticipation for "The Twilight Saga: New Moon" grows each day, Summit Entertainment releases more sneak peek videos for the highly anticipated vampire saga. This time around, a featurette focusing on the powerful Volturi coven and a TV spot centering on the relationship between Kristen Stewart's Bella and Taylor Lautner's Jacob are put forth through MySpace.
The featurette is less than two minutes long, but it offers a closer look at the members of the oldest known coven of vampires in the "Twilight" universe. Dakota Fanning, Michael Sheen, Christopher Heyerdahl, Jamie Campbell Bower, Cameron Bright, Charlie Bewley and Daniel Cudmore each talks about the character they are portraying.
Beside commentaries from the actors behind the Volturi, the behind-the-scenes video also includes short interview with Stewart, Robert Pattinson, author Stephenie Meyer, director Chris Weitz and other crew members involved. All of them talk about the group of vampires and what part they have in this "Twilight" sequel. Missing from the featurette is another Volturi member, Noot Seear's Heidi.
The TV spot, on the other hand, gives more of the wolf action as well as blossoming relationship between Bella and Jacob. Entitled "Never Hurt You", the made-for-TV promo video displays glimpses of never-before-seen footage at the near end.
"The Twilight Saga's New Moon" is penned by "Twilight Saga" screenwriter Melissa Rosenberg. It follows Bella when she is left abruptly by Edward. Being unguarded from outside threat and devastated following his departure, Bella is comforted by her growing friendship with Jacob. The movie is due to arrive in theaters across United States on November 20.