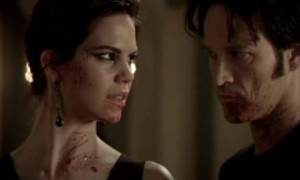 Well, now. This episode had more gore than a GWAR concert. Vampires were staked, bludgeoned, sliced and diced. Even Tara (Rutina Wesley) got to rip out some juicy neck flesh with her bare (human) teeth. But did all this violence add up to anything? Or have we reached a point in the series where all it has left is over the top blood and guts to try and shock us into caring?
The answer lies somewhere in the middle. But there's no denying that 3.06 was as entertaining an episode as True Blood has had all year.
Maybe it was watching Eric (Alexander Skarsgard) go all homoerotic on Russell in the name of vengeance (or threatening to rip Evan Rachel Wood's head off…that was a particularly frightening moment for me…NOOOOO!). Jessica (Deborah Ann Woll) partaking in a bathroom snack. Or Sookie (Anna Paquin) and Tara putting the beat down on a werewolf. But there were a lot of great, fun moments here that gave one the feeling that perhaps True Blood got back on V.
To Read More Click Here.