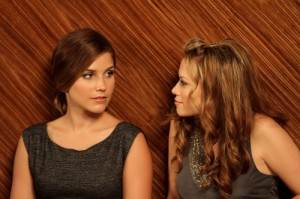 Who would've thought that Brooke and Nathan would have so much in common? On this week's episode, both had to give up the thing they love most.
Julian has started his next project, a documentary about what comes next. As Brooke talks to his camera, she explains that she's giving up her entire fortune in order to pay back her company's investors who lost their money. "Why do it?" Julian asks. "It's the right thing to do," she responds. Unfortunately her mother doesn't feel the same way. Brooke visits her in jail to break the news that she's selling the company and Victoria fires back, "I leave you alone for a few days and you go back to that stupid girl who follows her heart." She follows up by telling Brooke to never visit her again.
Nathan visits Clay at the hospital and finally tells him that he's decided to quit basketball. To Nate's delight, Clay, his agent, is nothing but supportive. Clay's old employers, on the other hand, try to tell Nathan he can't lose his contract. So Nate comes up with a new idea: to partner up with Clay. Nathan doesn't want Clay losing any of his clients to IAC and since Clay is currently unable to work, Nathan will hustle for him. Sounds like the perfect career move for Nathan since representing athletes is the next best thing to being one.
To Read More Click Here.