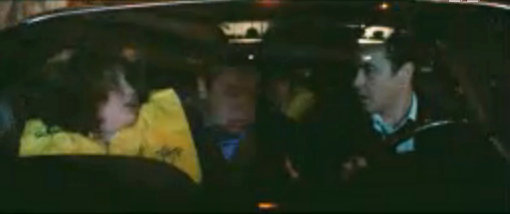 As one of the movies getting an exclusive sneak peek at MTV's "Behind the Screen" program, "2012 (2009)" shares a look at its first ever-released clip. The one minute snippet reeled out the emergency escape some of the survivors, including John Cusack's Jackson Curtis, are forced to do when the aircraft they are in gets out of control.
The clip aside, director Roland Emmerich has recently talked to MTV about this global disaster movie and discussed matters from the destruction scale rate to the creative marketing done. Stating that the film will be "the mother of all disasters", the 53-year-old noted that "Tibetans to Chinese to Italians to Russians that come from all walks of life and countries" will all be seen dealing with the catastrophe.
Asked whether everyone involved will be trying to escape the massive flood seen in the teaser, Emmerich responded, "It's pretty much that - it's actually two groups." He went on, "The group who knows - which is a small group, government officials, some billionaires and some scientists, and then there's the masses of unknowing. These guys could be represented by John Cusack."
Interlacing the prophecy in Mayan calendar with natural disasters, "2012" presents an epic adventure about a global cataclysm leading to the end of the world. Despite its end-of-the-world tone, this disaster movie will focus more on the heroic struggle of the survivors. Amanda Peet, Chiwetel Ejiofor, Danny Glover, Thandie Newton, Oliver Platt and Woody Harrelson star. November 11 will be the day this movie shakes U.S. theaters.