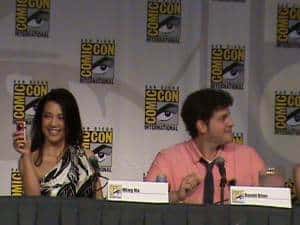 In Ballroom 20 (the main TV panel venue), the Friday edition of Comic-Con began with panels on SyFy Network's Stargate Universe and Caprica.
First up: Stargate Universe. Robert Carlyle, Alaina Huffman, David Blue, and Ming Na were introduced by producer Robert Cooper. A trailer for the new season (starting this September on SyFy) was then shown, much to the delight of those gathered. Cooper then began a Q&A with the actors. Carlyle said that his character, Rush, is one of his favorites that he has ever played. He continued, saying that the temptation as an actor is to "play the end" of the show, but not having that information is beneficial to his portrayal. Ming Na said that finding a woman who is in a position of power, yet with a great vulnerability was a bit surprising for her as an actress.
Blue talked about how his character Eli will find himself in a relationship in the second season, stating that "Nerds need love, too!" Huffman was asked how such a happy, bubbly person in real life, plays a character who is so serious. She responded that she has learned a lot from her character, TJ, in being strong when need be, but asking for help when she has to, as well. Huffman also said that there is a great mood on set, led by Robert Carlyle, where they are free to create to the best of their ability and imagination.
To Read More Click Here.