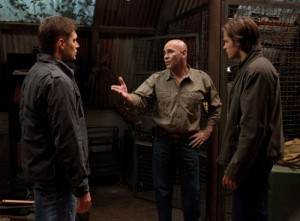 This week's Supernatural episode is called Two and a Half Men, and if the CBS comedy of the same name were like this, I'd watch it every week. Sam and Dean protecting a little baby shifter from his daddy? Sign me up.
The new era of Supernatural has reached its second week. Sam's on the road playing FBI guy by himself while Dean's at home with Ben and Lisa. Scratch that. Dean's at a new home with Ben and Lisa. Since "Exile on Main St.," the family has moved and Dean has everyone on lockdown all in the name of protection. Protecting them from what? He doesn't know. He just feels like there's something out there and it could find its way to them just like the djinns did.
With all the talk about Season 6 going back to its Season 1 roots, Sam's not getting that sort of treatment. Sure back then there were things he didn't want to tell Dean about like having had visions of Jessica's death before it happened. This Sam is still disconnected from life; he seems like he's walking through it in kind of a numb manner. There's one line uttered when he was talking to Granddaddy Campbell on the phone: "Sometimes I wonder about me too." Jared really sold that line for me; my heart practically broke.
To Read More Click Here.