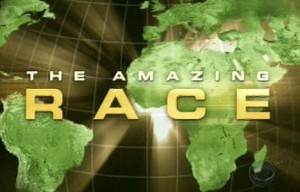 Once again, the Race Around the World has begun for the chance to win One Million Dollars cash! Tonight's premiere had everything we love about The Amazing Race: a beautiful location, adrenaline pumping action, a winner, a loser, and of course, Phil!
Love 'em or hate 'em, there's no denying, Jeff Schroeder and Jordan Lloyd, the show-mance couple from from this past summer's season of Big Brother, are the stars of this premiere episode. They can be quite a polarizing couple… most people either love them for their adorable chemistry, or hate them for their utter stupidity/naivete. Either way, at this point, they're ratings gold, and if they accomplish nothing else, they've done what they were put on the show to do - get people talking about The Amazing Race!
This season starts in sunny Los Angeles, California where our contestants include such notables as:
To Read More Click Here.