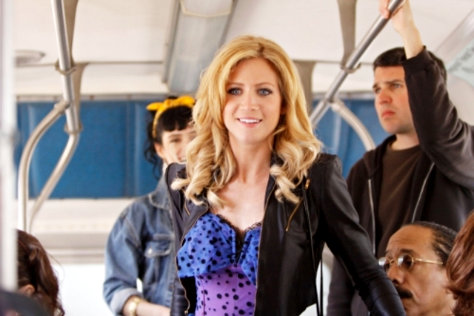 It was way back when Lily van der Woodsen was known as her maiden name Rhodes. Next week on "Gossip Girl", it's a backdoor pilot for the show's spin-off which is tentatively titled "Valley Girls". There will be a lot of flash backs to the '80s where Lily was just a 17-year-old living in Los Angeles after being kicked out of boarding school.
In the May 11 episode, young Lily tries to reconnect with her parents, Rick (Andrew McCarthy) and Cece (Cynthia Watros), and sister, Carol (Krysten Ritter). She will later leave the comfort of living a luxurious life to crash in with her sister in downtown L.A. Brittany Snow leads the cast as Lily Rhodes.
Back in present day, Blair and Nate attend prom together, but the evening doesn't turn out exactly as planned and Chuck has a little something to do with that. Serena and Lily don't see eye-to-eye over Serena's recent run-in with the law.
No Doubt guest star in the episode as a fictional '80s band called Snowed Out. They will perform a cover of Adam and the Ants' "Stand and Deliver" which No Doubt had performed on their live set at Bamboozle Festival over the weekend.