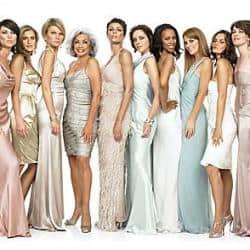 If you like watching America's Next Top Model but find every single one on The CW reality show a tad bit immature for your taste, you might want to tune in for tonight's premiere of She's Got the Look - TV Land's answer to ANTM but with older people. Yes, everyone in contention on She's Got the Look is over 35. Back for its sophomore season, the modeling competition features ten new finalists all beyond what is the normally prescribed modeling age. Last season's six episodes will be stretched to eight this season.
If you think these folks are just fooling around, better think again. The grand prize on She's Got the Look include a modeling contract with Wilhelmina Models, Inc., a photo spread for Self Magazine, and a check for $100,000; no doubt comparable to those at stake on America's Next Top Model. Taking the place of Tyra Banks, supermodel Kim Alexis will be reprising her role as host, alongside supermodel Beverly Johnson, celebrity stylist Robert Verdi, and Wilhelmina president Sean Patterson as judges.
On the first episode, we take a look at a condensed version of the audition process. Since the whole duration of the season only runs up to eight episodes, the judges have very little time to narrow down the contestants from the many women who try out to the twenty semi-finalists and finally the ten who'll move in to the posh New York loft.
The first season featured six back-to-back episodes featuring 20 women in contention to become the next great supermodel above 35. The challenges usually include photo shoots, runway competitions, and tests on the contestants' fashion sense.
Catch the season 2 premiere of She's Got the Look tonight 9pm on TV Land.