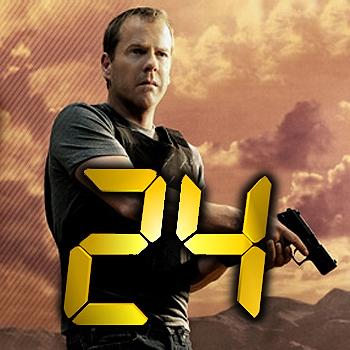 "I am here to assure you that those responsible are no longer a threat to this country ... We will not give in to terrorists." So President Taylor assures the American people as 24 opens another action-packed hour. But somehow, I think Dubaku, watching the President's speech on a street vendor's TV, might dispute that over-confident assertion.
Promptly returning to the standard "shady back room" in which the first gentleman sits bound and gagged, Dubaku asks, "Does your wife love you enough to call off the invasion of my country?" The look in Taylor's eyes says she might not --or maybe he just realizes how impossible the President's choice seems to be.
No sooner have Matobo, Jack and company entered the Oval Office than Dubaku calls with his latest threat - withdraw from Sengala's borders and deliver Matobo to him, or it's over for the first gentleman. Or, in Dubaku's exact words, "Meet my demands, or I will send him back to you, one piece at a time."
And yet President Taylor decides she won't be meeting those demands - because, as she explains, it's not right to ask the American people to sacrifice when she's not willing to do so herself. It's a decision that even seems to strike Jack as cold-hearted, which perhaps influences him to offer his services in helping track down the first gentleman.
This leads to the exchange many of us have been waiting all season to hear - Taylor: "How am I supposed to know where your loyalties really lie?" Jack: "With all due respect, Madame President, ask around." Classic.
For Full Recap Read Here.