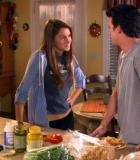 Are you prepared for the biggest surprise of all?
That's what the following promo for The Secret Life of the American Teenager teases, as it hypes the show's summer finale.
Titled "Up All Night," look for the episode to focus on the return of Ricky and Amy from New York. Does the former have something to ask the latter? We'll find out in just a few days...