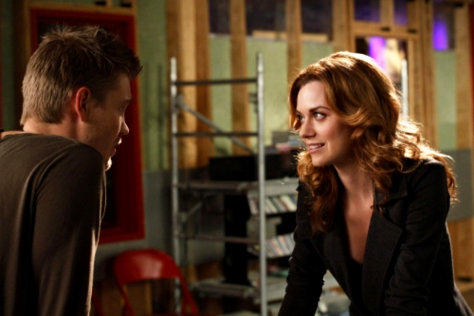 In the previously released promo of "One Tree Hill", Lucas said to Peyton, "If you have this baby, you could die," and the reason why is teased on the newly-released clip. Lucas was about to give Peyton a surprise when she felt pain in her belly.
In the March 16 episode "You, Me and the Bottle Make Three Tonight" which title is taken from the single by Big Bad Voodoo Daddy, Peyton and Lucas receive a startling surprise about the pregnancy. This 'problem' has been speculated as an exit scenario for Peyton's depicter, Hilarie Burton, who cryptically told fans of the show in a video post that she is leaving the show.
Meanwhile, Brooke and Julian's relationship comes to a crossroad. Nathan and Haley celebrate their anniversary, while Dan and Deb babysit Jamie. Mouth and Millie try to pick up the pieces of their relationship.
To See The Clip Click Here.