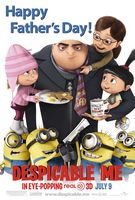 Universal Pictures has released the third teaser trailer for "Despicable Me". Though it does not give any clue about the storyline, the new video manages to introduce Minions, the army of second greatest villain Gru, who are ready to help him carry out his plan to dominate the world. In the clip, two of these little, yellow creatures are seen playing on "a Moo Cow Toy".
Living in a black house in a happy suburban neighborhood surrounded by white picket fences and flowering rose bushes, Gru plans to outwit world's #1 supervillain Vector. To reach his goal, he sets the biggest heist in the history of the world, stealing the moon.
Armed with his arsenal of shrink rays, freeze rays, and battle-ready vehicles for land and air, he vanquishes all who stand in his way. That is until the day he encounters the immense will of three little orphaned girls who look at him and see something that no one else has ever seen: a potential Dad. Now, the world's greatest villain is faced with his greatest challenge, three little girls named Margo, Edith and Agnes.
Directed by Chris Renaud and Pierre Coffin, "Despicable Me" features the voice talent of Steve Carell as Gru. Joining him in the voice cast ensemble are Jason Segel, Russell Brand, Danny McBride, Will Arnett, Julie Andrews and Kristen Wiig. This animation is set to open wide in theaters across the U.S. on July 9, 2010.