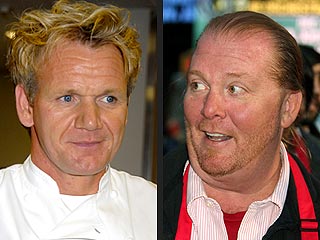 Gordon Ramsay isn't about to get into an all-out food fight with fellow chef Mario Batali - but that didn't stop the outspoken Hell's Kitchen star from tossing a little mud at his rival on Wednesday.
"It's really sad. I have never met Mario Batali," Ramsay told reporters when asked about a supposed long-running feud between the two men.
On Tuesday, the New York Post's Page Six reported that Batali had banned Ramsay from eating at his restaurants -including Manhattan's Babbo and the Spotted Pig- after Ramsay made up an unflattering nickname for him.
"As far as I'm concerned I haven't been banned from his restaurants," Ramsay -whose new season of Hell's Kitchen debuts Thursday on FOX- said about the ban. "But if we can't get on, what's the big deal. I haven't got any problem with Mario Batali."
While Ramsay called Batali "a very talented chef," he recounted an unpleasant experience at a Batali restaurant and called the food "embarrassing." According to Ramsay, his dining partner's sea bass had to be sent back "because it was off."
But perhaps a truce is still possible. According to Page Six, Batali said if Ramsay "called me himself and said, 'Let's sit down for a drink.' I'm sure it would be fine. We'd be cool."