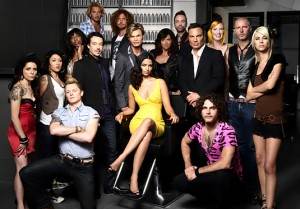 The sounds of "Snip, snip, STAB, bitch!" will recommence on February 3rd. And I am happy.
Sheer Genius returns to Bravo with new contestants, new egos, and new faces in the judging arena. Gone from the show are Jaclyn Smith as host and Rene Fris as mentor. These duties will be taken over by Camila Alves and Orlando Pita, respectively, and add Jonathan Antin (E!'s Fashion Emergency and Bravo's Blow Out), famed hairstylist to the stars and you have a makeover worthy to be sampled. But don't worry, we still got Judge/World Renowned Hairstylist Kim Vo to keep the newcomers in check.
Now let me be clear about some things... I watch Sheer Genius for catty putdowns and to see what people are getting away with in terms of "fashion". I am not an expert in anything dealing with hair, but I do know ugly when I see it, so please be patient when correcting me in the terminology when it comes to hairstyling. Moving on...
The contestants range from my home state of Tennessee all the way to England and some of them seem to have peaked already in their careers, with some people having worked for celebs like David Beckham, Liza Minelli, Matthew Fox, Jerry Seinfield, Mary J. Blige and Rose McGowen to name a few. These achievements are enough to tune in and watch the contestants' egos get snipped down to size by the judges and witness the bitchy comments that are bound to be slung afterwards.
To Read More Click here.