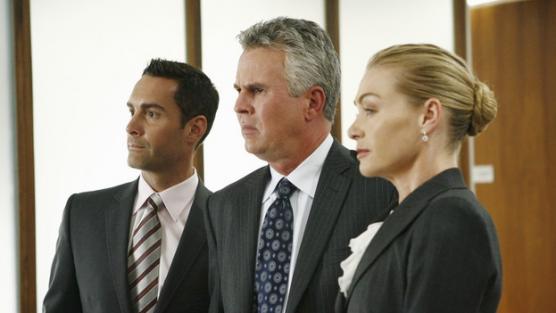 This week's episode of Better Off Ted, "The Lawyer, The Lemur and the Little Listener," definitely was a stronger effort than the season two premiere, which we felt didn't live up to the amazing first season.
This week's episode featured a much stronger Ted storyline, as he and Veronica teamed up together to extract information from his daughter that she learned from daycare. We really enjoyed this storyline, and aside from pushing a little too hard on the baby-eatting jokes, it led to plenty of laughs and an amazing performance by Portia de Rossi as usual.
Linda, meanwhile, was busy working on her children's novel, which was a nice change of pace from her usual whining. She did a great job playing off the awkward Phil for some good laughs.
Lem was mostly too busy getting lucky with a hot lawyer, Nadine (Chelsey Crisp), to be interacting with his scientist buddy, though their debate about animal parts was classic Better Off Ted. The idea of Veridian charging for time he spent with his lawyer personally, was sadly believable for Veridian and entertaining.
To Read More Click Here.