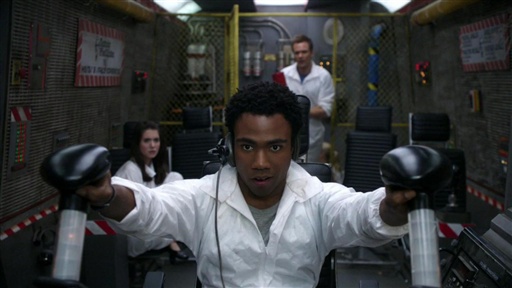 Season 1 of Community provided us with some amazing spoofs. Mafia films, action/adventure movies, Good Will Hunting, Batman Begins, romantic comedies and more. This week, we are treated to an entire episode of sci-fi space films, specifically Apollo 13, Armageddon, The Right Stuff and others.
When the dean finds out that City College (and local rival) has a space simulator, he decides Greendale needs one of its own - and the study group has the duty of cleaning it (a punishment for creating a school flag with an inappropriate theme). The spoof begins right off the bat as the news of the rival simulator is told in a dark room with a projector, filled with men who look like they came from CIA headquarters. I love how the dean's computer background is clearly two men dressed in Dalmatians costumes, a creepy yet funny theme (Halloween's just around the corner, hint hint). In the parking lot where the "simulator is," the group immediately dismisses the dean's instructions and all go inside the "space station" which they are only supposed to clean. While they clean, they provide a hilarious view of Leonard practicing in the simulator, where he can't believe "he's not really in space" as he pilots a cardboard box.
To Read More Click Here.