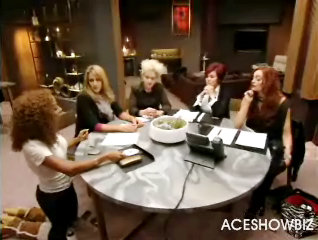 On this week of Celebrity Apprentice, the teams compete to make a 3-D display to promote Universal Studios' "The Wizarding World of Harry Potter" theme park.
The episode starts out immediately following Darryl being fired and Donald calls everyone back to the boardroom pronto. For a minute I'm sure Donald is either going to fire a second individual or make sure there are no other contestants who want to go home. Thankfully, he's actually just getting the new task started a little bit early.
Without knowing anything about their next duty, each team must pick a project manager. For Rocksolid, Michael immediately volunteers Rod after Rod has volunteered other managers and, as Michael says, hasn't contributed as much as he could. For Tenacity, Selita steps up to the plate. Both project managers learn they will be taking an early morning flight the next day, where they will learn about their task while separated from their team.
The next morning on their stylish private jet, Rod and Selita learn they are on their way to.... Orlando! They are going to the new attraction The Wizarding World of Harry Potter at Universal Orlando to get information about the attraction for their teams. The two teams, back in New York, will then begin work on a 3-D interactive display to promote the attraction and show to Harry Potter fans and Universal executives. The Potter fans will determine the winner.
Just because the ladies' team doesn't have a task to work on doesn't mean they don't have anything to do. Tenacity gets the drama started early for absolutely no apparent reason after Cyndi brings in a whiteboard to help with productivity in future challenges. Holly shoots down Cyndi's effort and gets on Cyndi's case for butting in on other people's jobs last time around. Cyndi fires back at Holly, or should we say "Holly Peete Robinson" as Cyndi calls her, and Sharon also tells Holly to quit it. Sharon thinks the ladies don't respect Cyndi enough and, as Sharon points out so eloquently, without Cyndi their team would be like "watching ice melt."
To Read More Click Here