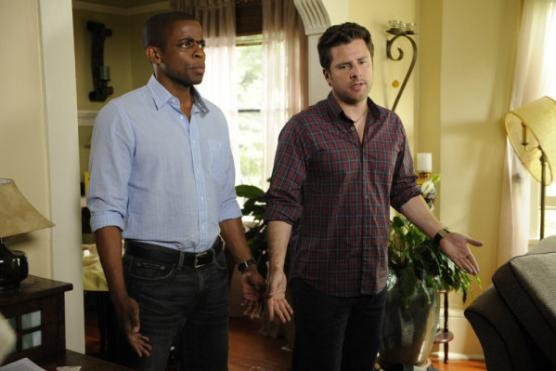 Alien encounters and Freddie Prinze, Jr. Psych continues its streak of great episodes with this hilarious trip into nerd-dom. So, grab your own pair of Geordi glasses and let's get started!
1990. Henry is on the phone denying responsibility when Shawn, Gus, and some kid named Dennis wander into his office. Apparently there was a weather balloon recovered from a field and the kids are convinced it was really a UFO. Despite Dennis' annoying pleas to the contrary, Henry shuts down any UFO talk and the kids flee from him and his sidearm.
Present Day. A man with disturbingly Dennis-like glasses sits in his study drinking beer. He's dictating some notes when his TV signal goes on the fritz and bright lights flash outside his window. He reaches for some medication, but the whole building starts shaking. The man, who is apparently not Dennis, makes a beeline for the door only to be stopped by his assistant Toby. Toby comes bearing medication refills. I mention this because I have no doubt it will be important later on.
Not-Dennis asks if Toby noticed any "commotion" moments ago, but the clearly overworked assistant is clueless. Then, the building starts shaking again and the lights outside begin their flashing once more. Not-Dennis finally succeeds in escaping his own house only to be greeted by a fuzzy ring of lights similar to a - you guessed it - UFO. Toby joins him outside and it's pretty clear from his expression that Not-Dennis isn't the only one seeing dark shapes milling around the ring of light. Unfortunately, Toby is either pulling an elaborate hoax on his weak-minded boss or has never seen a single episode of Mystery Science Theater 3000 because he stupidly decides to walk toward the light and into the apparent space craft.
To Read More Click Here.