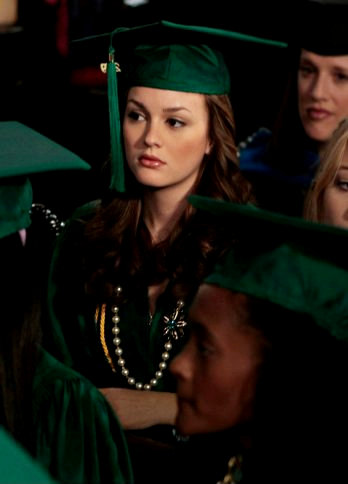 "Gossip Girl" will momentarily sign off from updating the scandal of Upper East Siders after Monday, May 18 episode. But before that, Blair and Chuck will heat things up with their complicated relationship that reaches the level of "tell me you love me".
In the episode called "The Goodbye Gossip Girl", Gossip Girl decides to liven things up at the Constance Billard and St. Jude's graduation by sending out a shocking and damaging email blast in the midst of the commencement ceremony, stirring Serena to come up with a plan of attack.
The Mean Girls challenge Jenny to throw her hat in the ring to succeed Blair as Queen Bee next year. Lily and Rufus struggle to repair their relationship after Lily's betrayal. It had been reported that the long-lost lovechild of them will show up his face in this episode. The character named Scott is played by actor Chris Riggi.
As for the cliffhangers, Blair and Chuck finally...and Serena is shocked by...and Georgina decides to...and Dan, Nate and Vanessa unknowingly... and it all happens in the series' climactic season finale.
'Gossip Girl' Season 2 Finale Preview: Blair and Chuck Finally
Related Stories:
Discuss: Is "Valley Girls" Spinoff Worthy?