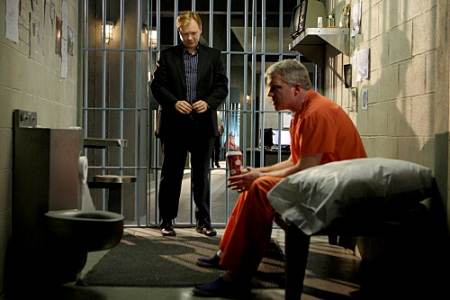 Finally, an episode that answered some questions that have been brought up during the course of this season. Natalia's hearing issue has been addressed, we got some insight as to where Calleigh and Eric's relationship is headed, we see Jesse is up to his old tricks and even a surprise visit from Kyle. All of these will be addressed shortly but first let's talk about the case.
Dr. James Bradstone (The Dead Zone's Anthony Michael Hall) is sitting on death row for killing his wife and his five year old daughter and leaving his seven year old son for dead back in 1995. He is about to be taken away until he is given a last minute reprieve by the governor. New information has surfaced about his case. Horatio and his team are given 24 hours to find out if the testimony from their main witness is true.
She claims that she saw Dr. Bradstone stab his wife Sarah from her kitchen, which could have been impossible because a tree was blocking her view. She claims that she was coerced into stating that she witnessed the killing from her living room by the assistant state's attorney and a young Officer Jesse Cardoza.
To Read More Click Here