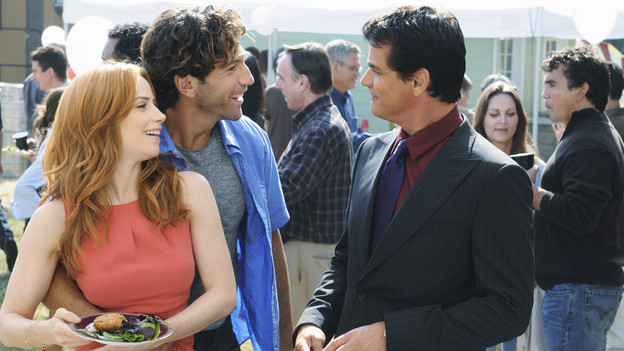 Before we get into the recap, let's talk about What's Wrong With This Show. My basic problem with it is that I already know that all three main characters have magic powers. I even know what they are. I assume Darryl is some kind of demon or something, because that's what he was in the book and the movie, and also because he showed up in a puff of magic smoke while wearing a T-shirt that said "I AM OBVIOUSLY SOME KIND OF DEMON OR SOMETHING". So all this stalling around where the women slowly come to terms with the idea that they might possibly have magic powers? Boring. You're witches. You use magic powers every episode. Get on with it. The investigation into Darryl's mysterious background? Don't care. He's a demon. Or something. Everybody already knows that. Skip ahead a bit. Make something interesting happen!
Sorry. Just had to get that off my chest. It's like if Lost started season one with a voiceover saying "These people are stranded on an island with polar bears and hidden hatches," you know?
Bun is awake, but apparently crazy. You can tell because she's mumbling "Three Blind Mice". She's lost her memory and she's constantly doodling The Symbol that we've seen on Jamie's torso and in front of Eleanor's house. From now on, I'll just call that The Symbol. It kind of freaks out Kat, who's checking up on Bun in her capacity as a nurse.
There's a festival going on. Eastwick has a lot of festivals, doesn't it? In this case, it's because Van Horne Ventures has declared some place to be the Future Side of Eastwick Brewing Company. Darryl and The Witches (that's what I'm calling them from now on, because why keep denying it?) walk through the crowd talking about Oatmeal Stout. He encourages Kat to contact his lawyer to divorce Raymond, but she's getting back together with him. He asks Kat to take the divorce lawyer's business card, but she declines, putting it back in Darryl's pocket. That's important, just so you know. Raymond rushes up to gush to Kat about how they're giving away beer cozies.
To Read More Click Here.