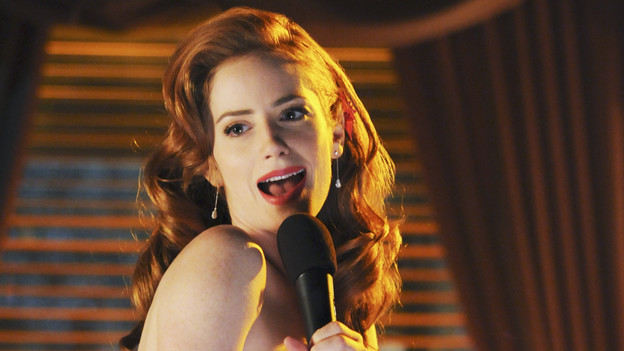 Darryl is dining with the witches and making single entendres about putting his duck in their mouths. Also the mouth of the old woman at the next table. Kat is giddy about being free of Raymond, which she demonstrates via the ancient art of throwing asparagus at people. Joanna panics when Will walks into the restaurant (not as big a coincidence as it might sound, since it's a really small town) and is chastened when he walks past her, firmly ignoring her. Kat is having none of this! She throws down her napkin and walks up to Will to tell him how great Joanna is. Will doesn't buy it because of the thing Joanna did to him last episode. You know. That thing. Anyway, Kat snaps "You're acting like a moron. Smarten up and be nice to Joanna!" She returns to the table.
Now they're interrupted by Pastor Dunn's wife who reports that the Pastor has vanished, leaving her and the children by themselves. She's also angry at Roxie and Kat for no apparent reason. She tells everyone at the table that they make her sick.
Anyway, it's time for a plot. As Darryl and the witches leave the restaurant (the Eastwick Inn, one of the many places Darryl owns -- incidentally, shouldn't several Eastwick residents have become pretty rich overnight from selling their land and businesses to Darryl? Who used to own the Gazette?), Darryl tells them about this legend that Eastwick is on a sacred site which is a vortex of supernatural power and energy. So I assume they'll be getting a Vampire Slayer soon. Anyway, once a century, the moon grows to three times its normal size, which is something called "the wild moon", and it causes wild orgies. That's happening tomorrow. Darryl backs up his astrological babbling with some astronomical babbling. He proposes a toast the "the 93rd return", which will be tomorrow's foolishness.
Mia is video-chatting (these kids today! With their hair and their clothes!) and making the dude on the other end say which teacher he'd make out with. Then she notices the dragon poster on his wall and objects to it, because she's one of those people who thinks dragon posters aren't cool. Then Mia closes the laptop because Roxie's home. Roxie promptly grills her about who she was talking to and they promptly get into a fight. Roxie grounds Mia, who responds with a strangled "grar!"
At the Eastwick Gazette, the next day's paper needs some filler. I bet that happens a lot. Joanna pitches Clyde some kind of story about lobbying, zoning, drinking, and bribery. He's instantly bored and demands more stories about pastors and hookers. Again, I would like to remind everyone that the first issue of this paper we saw had a front page story about the book club meeting being moved. The bar has not been set all that high. Clyde threatens Joanna with an assignment about Eastwick's oldest cat.
To Read More Click Here.