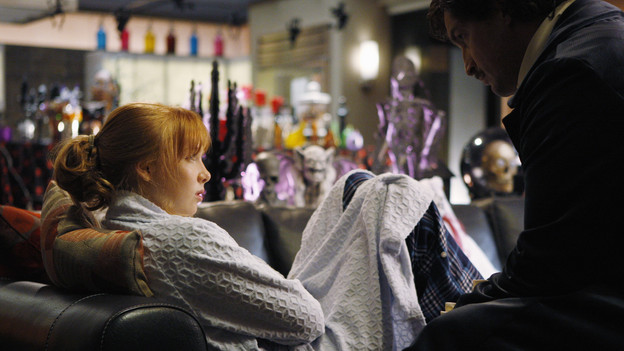 Halloween is near and Castle is thinking about dressing up as a space cowboy for his big costume party. Anyone else think Nathan Fillion could handle that role with a certain degree of serenity? But we digress, partially because we don't want to plug another franchise, but primarily because there's a mystery that needs solving.
Castle meets Beckett at a cemetery where they find the body of a young man stabbed through the heart with a stake. The victim even has fangs! They are able to ID the dead guy as Crow, his chosen name within the Vampire Fetish Community. His real name is Matthew Freeman. At Crow's apartment, they discover he was working on a graphic novel. His landlady mentions a girlfriend that Crow had argued with recently.
They locate the girl, the Vampire Mistress Vixen, who says they fought over another lover that Crow had taken Daemon, a writer with whom Crow was working on the graphic novel. Daemon and Crow had been shadowing Morgan Lockerby, a former Coven member turned paranoid homeless man. Later, Beckett learns from Ryan that there's a print on the stake belonging to Lockerby.
To Read More Click Here.