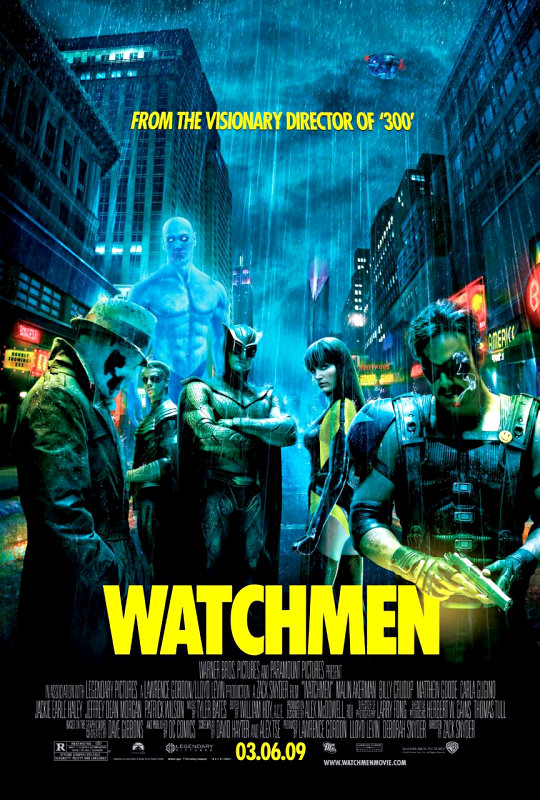 Most comic book adaptations in the past few years go for a darker tone without leaving a touch of the "wham, bam" action sequences. But, if you are expecting something like "The Dark Knight" out of "Watchmen (2008)", you couldn't be so wrong. This graphic novel adaptation has been from the beginning holding out a premise that it will be one grim, dark and complex comic book movie like none others.
What makes "Watchmen" unique? It presents gut-wrenching violence and intricate storyline, does not eliminate horrific subjects from rape to impotency, and unlike any other comic book adaptations before it, lays in the open the humane side of the costumed-heroes. It digs in the heroes' state of mind, reveals the real motivation behind their vigilante acts, displays how they turn their back on each other to achieve their goal and shows their flaws.
Rorschach burns a SWAT member to escape imprisonment
Under the capable hands of director Zack Snyder, this "unfilmable" novel has been transformed into watchable feature film for both the fans and those who haven't read the graphic novel. And, for that, while some may disagree, Snyder has done an impressive work in delivering this big screen version of the Alan Moore and Dave Gibbons' graphic novel, which many dub as "the greatest comic book ever written".
To Read More Click Here.