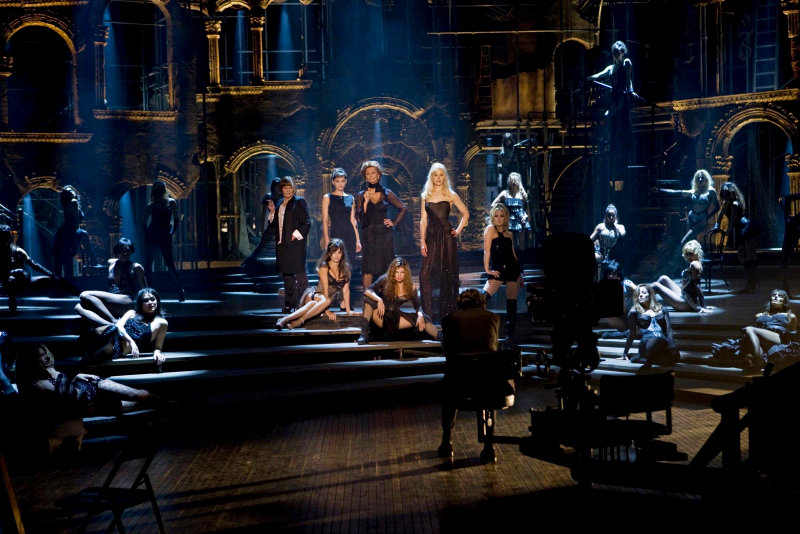 A rehearsal montage from the forthcoming musical "Nine" has just been released. Put out via Yahoo! Movies, the two-minute video features a number of scenes from the film intercepting footage of the rehearsals for the song-and-dance numbers. Penelope Cruz, Kate Hudson, Stacy Ferguson aka Fergie, Marion Cotillard and Nicole Kidman are some of actresses seen.
Adapted from the 1982 Tony-winning Broadway musical, this Rob Marshall-directed movie revolves around world famous film director Guido Contini. Dealing with a personal and professional crisis, he struggles to prepare his latest picture, while at the same time balances the numerous women in his life from his wife and his mistress to his movie star muse and his mother.
Headlined by Daniel Day-Lewis, "Nine" is supported by Marion Cotillard as Contini's wife Luisa Contini, Penelope Cruz as his sultry mistress Carla, Nicole Kidman as his film star muse Claudia Graham, Judi Dench as his confidant and costume designer Lily, Kate Hudson as young American fashion journalist Stephanie, Sophia Loren as his mother, and Fergie as Saraghina.
The Weinstein Company has delayed the release of this movie from its original schedule on November 25 to avoid competition with "The Road". It is now set for a limited bow in New York and Los Angeles on December 18, before going wide across the U.S. on December 25.