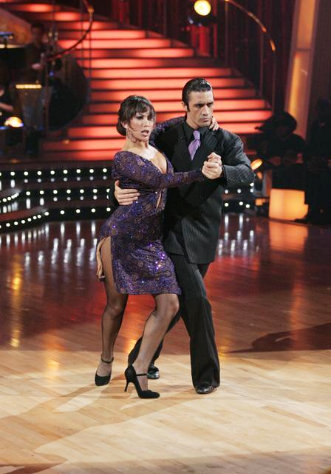 The feet are spinning, it is time for another "Dancing with the Stars". Following the double elimination last week, nine couples are still in the running and tonight (April 6), they will be dancing either Paso doble or Viennese waltz.
First to hit the floor were Chuck Wicks and Julianne Hough with Viennese waltz. Len said that Chuck has come out of hibernation although some footwork will be required. Bruno saw that Chuck has finally stepped out of Julianne's shadow but Carrie disagreed, saying that Chuck often lost focus and confidence. The score was 7-8-8, giving it 23 out of 30.
Next were Lawrence Taylor and Edyta Sliwinska doing Paso doble. Bruno referred Lawrence as Prince of Darkness and a block granite that only found its footing toward the end. Carrie thought Lawrence's movement was limited while Len thought it was his best dance so far. The score was 6-7-7, giving it 20 out of 30.
Shawn Johnson and Mark Ballas did the waltz. It was all about an improvement in technique rather than tricks that the judges did not like last week. Carrie was pleased with this, calling that simplicity worked best for them. Len complained of Shawn who did not "step forward on her heels," and Bruno advised her to lower the shoulder next time. The score was 9-8-9, giving it 26 out of 30.
Melissa Rycroft and Tony Dovolani went bright red for Paso doble. Len felt that Melissa made several blunders and also lacked aggression. Bruno admitted that it was a difficult routine and she looked stunning. Carrie wanted her to push it to the limit especially since she did some missteps. The score was 8-8-9, giving it 25 out of 30.
To Read Click Here.