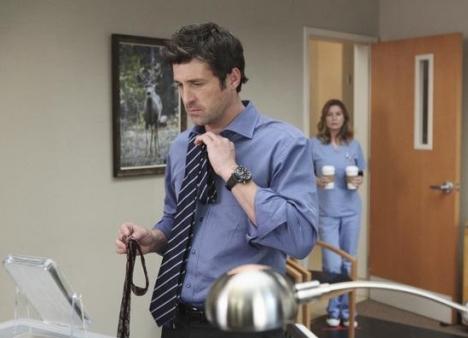 There's a new Interim Chief, but the like the real world, the problems at Grey's Anatomy's Seattle Grace clearly can't be fixed in one day. But it was great to watch Derek try.
Between Bailey's patient (and her love interest), Alex and Arizona kicking a$$ in peds, Mark and Lexie on the rocks and the Owen-Cristina drama, there's plenty up in the air.
It was vintage Grey's Anatomy from start to finish. Here's our official recap (plus quotes and music) from last night. Now, here's our review of "State of Love and Trust" ...
REHAB: It's not just for Amy Winehouse anymore. The board has appointed Derek interim Chief, and told Richard he has to retire or go to rehab, then return to his post.
Richard is so angry at Derek, he can barely see straight, and James Pickens, Jr., delivers a seething scowl like no other. Ultimately, Bailey convinces him to choose rehab.
This was one of many Bailey high points. When a patient wakes up on the table mid-surgery, she is traumatized and won't let Miranda do a subsequent surgery she needs.
To Read More Click Here