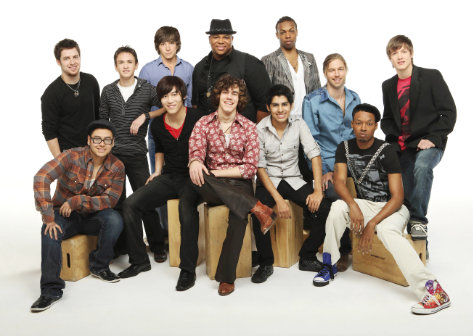 On Wednesday, February 25, it was the guys' turn to take the stage of "American Idol" and garner votes from it. Todrick Hall was the first to perform and he took a bold step to re-arrange Kelly Clarkson's "Since You've Been Gone" to an R & B. Simon Cowell said, "I thought it was a crazy arrangement of the song. What you did was completely murder the original song. You can boo all you want, but nobody would buy it. I think what you did was verging on stupid."
Aaron Kelly was next and he did what's he's best for, country music. Singing Rascal Flatts' "Here Comes Goodbye", Aaron got the compliment of being cute by both Simon and Kara Dioguardi. "You're a good singer. Very likable. Very cute, but you have to take control of the song. I think absolutely you'll be here this week," Simon said.
Jermaine Sellers did a cross gender song, singing Oleta Adams' "Get Here". Simon put it flat and square, saying Jermaine has blown his opportunity in the show. Ellen DeGeneres meanwhile, said, "There were a couple of times that you went out and off."
To Read More Click Here