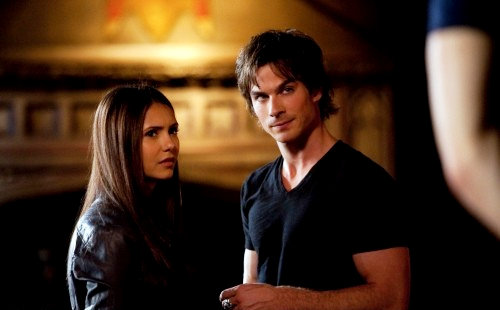 The CW has provided two sneak peeks to the upcoming episode of "The Vampire Diaries" where Vicki is recovering from Damon's attack. In the first clip, Stefan, knowing who was responsible for the incident, goes to the hospital and uses his ability to make Vicki forget who attacked her. However, his attempt was cut short when Matt arrives.
In the second clip, Elena goes to the Salvatore house to talk to Stefan, but finds Damon instead. Damon tells her about Stefan's past relationship with a girl named Katherine, and when Stefan arrives home, Elena is surprised that he seems upset to see her there.
The Mystic Falls residents are preparing for a festival to celebrate the passing of a comet. Jeremy continues to struggle with his drug use and his feelings for Vicki. At a parent/teacher conference, Mr. Tanner warns a worried Aunt Jenna that Jeremy is in trouble and needs intervention.
Later on, Vicki's memory of the attack begins to come back to her and Damon used his power of persuasion to make her forget what happened. Meanwhile, Elena realizes she has to tell Stefan how she feels about him and the two share their first kiss as the comet lights up the sky over Mystic Falls. Finally, Damon sets his sights on Caroline as his next victim.
Titled "Night of the Comet", the episode airs Thursday, September 17.