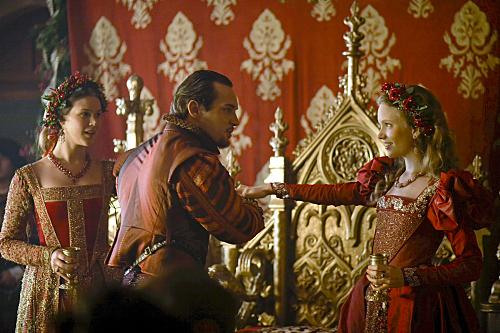 Ah, how much fun is this show now that this little idiot Queen Catherine is on the scene?
As proven last night, she is a true Tudor-era Girl Gone Wild with her love for girl-on-girl mud fights, dancing wildly around any room she enters, getting naked and covering herself with rose petals, putting on erotic puppet shows, dancing in the rain in a see-through nightgown, and having sex with lots of men. She's loving her life, as it seems like one endless party of new clothes and gaudy jewelry.
Her Ladies in Waiting are equally ditzy and love to shriek and giggle just as much as their Queen does. It's like they're always saying, "Holy crap, girls! Look! We're, like, rich now or something!" Honestly, what do these women do all day long? However, as the audience has figured out (due to your actual knowledge of history or just your viewing of the 10-second "What's Coming Up on This Season of the Tudors" spot) poor Catherine is doomed. I think I'm happy about this.
To Read More Click Here.
[If You Missed This Episode Watch It Here Online Now]