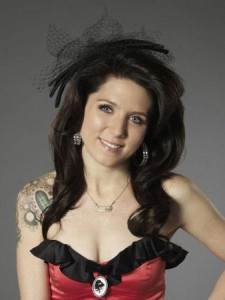 Ok, Bravo, bring your best. Or worst.
Welcome to a new (long overdue) season of Sheer Genius, where the blades and bitchy comments cut equal lengths in the hair salon. We got a new judge (Jonathan Antin), a new host (Camila Alves, Matthew McConaughey's girlfriend), and a new slew of hairstylists that all seem to have peaked in their careers, so why are they on Sheer Genius? Unfortunately, we don't find that out tonight, but we did see their work, which was Well'.
OK, let me give you a disclaimer. I am not a beautician, barber, or any of that. Does that mean I am qualified to do these recaps? Maybe not in some people's eyes, but hey, I DO know ugly when I see it and if tonight's episode indicated anything, it showed that I was right on the money. To an extent.
But first let's get to the first Short Cut Challenge of the season, which consists of the hairstylists taking punk rock girls and turning them into decent products of society. But these girls have hair that is lethal in every sense of the word, from flammability to sharp and pointy to hell on the eyes. The most atrocious of the lot ended up going to Amy (who reminds me of a Billie Piper/Taylor Momsen hybrid), but she miraculously won the challenge. Bravo to her, but to Faahtema, Amy's style was a tired and overused trick in the canon of hairstylists. Sometimes safe is more, Faahtema. Sometimes.
To Read More Click here.