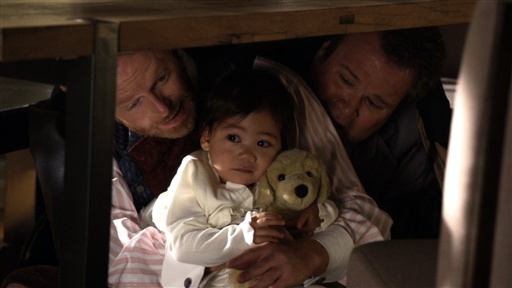 An earthquake wreaks even more havoc on the lives of our dear modern Family. Claire tries to micromanage her kids, even while she's locked in a bathroom with a plumber. Cameron and Mitchell use the seismic shift as an excuse to skip a dreaded costume brunch, while Manny feels guilty about skipping church to go golfing with Jay.
This week's episode opens on a familiar scene: Haley and Claire shrieking at one another. It's SAT time and Haley wants to go to party for a couple of hours and Claire ain't havin' it. Haley resents being made to stay in all weekend with books and feels like her sister, Alex "you're never alone with books" Dunphy. Claire tries to get Phil to step in to help but he doesn't want to get wrapped up in another "good cop/mom" scenario.
The fighting is interrupted by the arrival of a plumber Claire has called to fix the bathtub, a task Phil has been promising to complete for the better part of a decade. Always anxious to prove his handiness, Phil points out that he fixed a broken step on the staircase (remember that from Season 1?) and to demonstrate the sturdiness of his fix he does a little two-step while proclaiming, "Look how solid it is! I'm like Shirley Temple and that black guy!" While this made me laugh, it's kind of a predictable "Phil gets threatened by someone more masculine/handy than he is" storyline that we've seen before, as he begins a passive/aggressive Mr. Fix-It competition with the unnamed plumber.
To Read More Click Here.