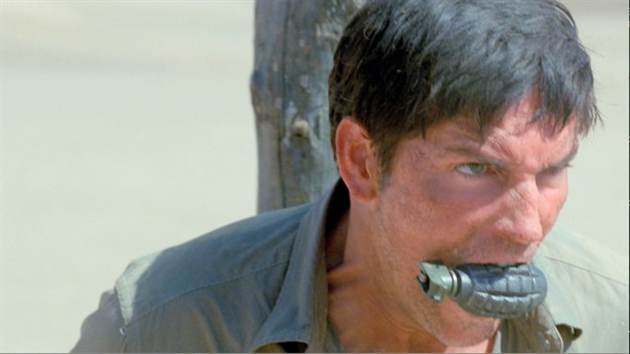 The second episode of The Prisoner, "Harmony," started just where "Arrival" left off. As 6 lies unconscious on a sand dune, he has a flashback to going to his apartment with Lucy. 6 wakes up, seeing flashes of a young boy on a beach. Suddenly, he is approached by a man, who is very glad to see him.
6 returns to the Village, where 2 informs him that the man who rescued him is his brother. He shows 6 evidence of the two together as children, and then tells 6 that he has scheduled him for therapy, or "the talking cure."
6 returns home with his brother, and is recognized by his brother's family. While they are happy to see him, they all crowd around to watch the soap opera, which appears to be all there is on television. 6's neice is able to recite many of the major plot points of the soap, and the entire family is very immersed in it.
Meanwhile, at 2's palace, 11-12 sneaks into his mother's bedroom, briefly sitting beside her on the bed. He soon hears 2 approaching, and hides outside the window, watching as his father enters and gives his mother some pills. As 11-12 looks on, his father sits down at a table beside the bed and begins to eat.
6, meanwhile, approaches his brother, who is fixing the bike. 6 tries to get his brother to admit that he's lying, but his brother will do no such thing, instead becoming distraught and leaving, wishing for 6 to acknowledge that he is indeed part of the family.
6 then goes to therapy, where he is put in a dark room with a therapist named 70, and a shadowed man in the background. The two debate on whether or not the Village is real, and 70 tells 6 that he can't cure his own thinking. 6 reflects back on his meeting with Lucy, where he found out that when she borrowed his phone, she did not make a call on it. Instead, 6 tells 70 about seagulls and the beach, two things which 70 does not know of.
6 then discovers that the shadowed man behind 70 is actually another 70, who reflects on the meeting while the other 70 engages the patient. 6 decides to leave, but 70 tells him that it isn't important for him to tell his thoughts to 70, only that he has the thoughts.
To Read More Click Here