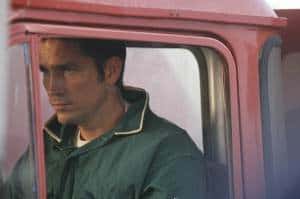 While a full recap is on its way tomorrow, here's a taste of what happened on the first half of tonight's The Prisoner, the episode "Anvil."
6 was recruited by 2 to assist an "undercover" named 909 in finding "Dreamers," or other people who believe there is an outside world. The two go after a history teacher named 1955 - spying on him with small tubular camera that can be installed anywhere, though when he discovers that he's being spied on, he cuts his own throat. However, both 2 and 6 find that they're being spied upon - 6 by 909, and 2 by a little girl doing an assignment for surveillance class.
Meanwhile, 909 is revealed to be in a relationship with 2's son, 11-12, but their relationship is cut short when 2 reveals his suspicions that 909 is spying on him to his son. 11-12 promptly goes to his lover's trailer and kills him by stabbing him in the neck. 6, meanwhile, goes after 313, who has been captured under suspicion of being a dreamer, but after seeing a mysterious event regarding the giant white ball, they are released.
Other great information learned in the episode is that some numbers, like 2, are positions rather than names (there have been a long succession of 2's), and the fact that there is no '1.'