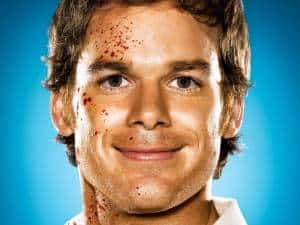 Dexter is all new on November 22nd and even serial killers celebrate Thanksgiving, so except a holiday-centric episode. Showtime has released a synopsis and two sneak peeks. We also have a promo for you below.
For most people, Thanksgiving is a time for traditions and family. But for Dexter, it's an opportunity to get closer to his most dangerous adversary yet.
As Dexter gains insight into Arthur's psychology by studying those closest to him, he finds himself drawn into a bizarre and twisted world.
Meanwhile, Rita has her hands full preparing dinner for a packed house, including a few unexpected guests. Batista gets closure on an old case, while Debra uses the holiday to continue her investigation of the Trinity Killer, a pursuit which threatens her brother's safety and brings to light surprising revelations about someone else close to her.