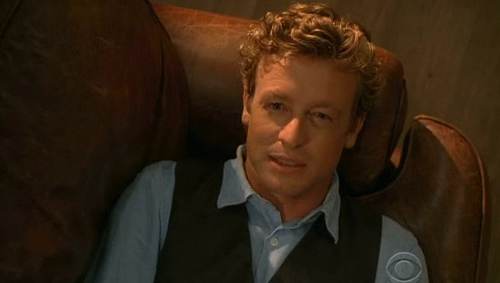 What better way to show the irreverent nature of Patrick Jane (Simon Baker) than to start off The Mentalist "The Scarlet Letter" with a yawn. Apparently sleeping through Lisbon's (Robin Tunney) briefing in the car, Jane awakens to find the CBI team on a bridge in Sacramento. He's quickly briefed by Cho (Tim Kang) and Rigsby (Owain Yeoman) that a state senator's aide named Kristin Marley has been found dead underneath the bridge. Since she was rumored to be having an affair with the senator's husband, it's not clear at first whether it's a suicide or murder.
Throughout the investigation, Jane and the CBI team find out several things about Kristin's personal life. First, that her step-brother was trying to force her into being his alibi for a car-jacking. Second, that she was a romantic who dreamed about being a senator and traveling to far-off places. She collected mementos from her travels, and Jane correctly suspected she was having a secret affair.
Jane has three unsettling moments in "The Scarlet Letter". A janitor moves Jane's leather "thinking couch" to change a light bulb, and Jane isn't happy until they both move it back. Next, Jane guesses that Kristin's secret lover will be revealed by a memento hidden in a secret compartment of her jewelry box. Van Pelt (Amanda Righetti) finds the secret drawer, but there's nothing in it. Lastly, Jane once again has a run-in with Agent Bosco, who has new evidence in the Red John case that he refuses to share with Jane. Jane plays it cool, but he's not happy that Bosco has discovered that he's been trying to hack his passwords and gain information secretly.
To Read More Click Here.