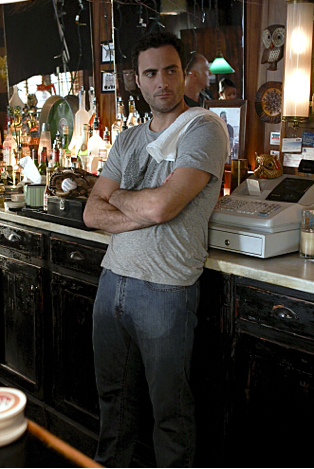 Excuse us for a moment. We're still laughing over Zoey's reaction to discovering that she's NOT pregnant: "Bleeding!"
Ah, she cracks us up...
While Zoey and Coop were used to tickle our funny bone in "Bleeding," the rest of the episode dealt rather seriously with the consequences of Jackie's affair.
We asked last week if Jackie actually had feelings for Eddie, and the general consensus seemed to be that there's a lot going on with this troubled nurse. She made it clear on this installment that she isn't using him for drugs (nor does she need to, with that eager, gullible pharmaceutical rep hooking her up)... so why go back to him?
The answer appears to be a mixture of low self-esteem and self-preservation. Jackie was bitter about the Alice in Wonderland debacle a week ago and simply acted out of impulse. She probably also thought that going back to Eddie's bed would keep Eddie out of Kevin's life.
But that isn't the case and Jackie made it clear to close this episode: It. Is. On.
To Read More Click Here.