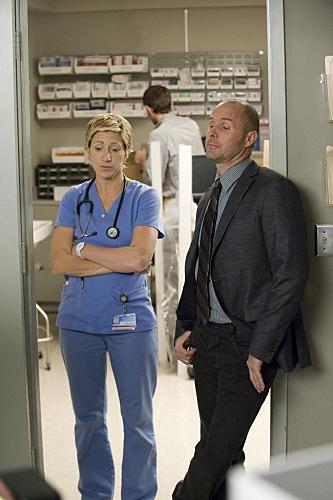 Last week, I surmised that Jackie hit rock bottom when she lied to O'Hara.
Looks like I may have written too soon.
On the Nurse Jackie episode "Sleeping Dogs," our favorite troubled hospital worker actually became a thief. Who knows if that man with a seizure was a doctor of a drug dealer, but that's the point: Jackie herself didn't know, either. Yet she swiped his collection of Oxycontin anyway.
Will the fact that the man's wife saw Jackie's name tag come back to haunt her? Maybe, but I doubt it. Nurse Jackie is a character-based series that doesn't typically deliver the sort of suspense that such a development would create.
Then again, with O'Hara possibly suspecting her friend now, Jackie is teetering closer and closer to the edge of collapse. This event could push her off.
To Read More Click Here.