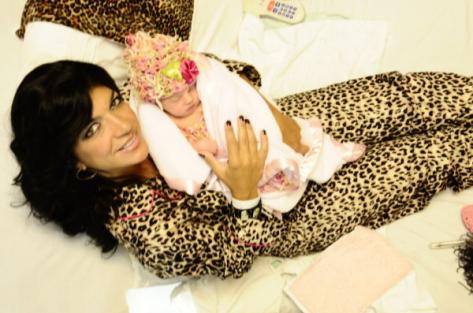 Pure magic. How else can you describe the birth of Teresa and Joe's fourth daughter, Audriana, on The Real Housewives of New Jersey? Well, besides an absurd ratings stunt.
Audriana was born in September, after all. It's less effective to draw these things out when your stars become actual celebrities, Bravo. Has The Hills taught you nothing?!
We're not implying that Joe and Teresa Guidice had Audriana simply for publicity ... though it wouldn't be the first time. That's basically why Kourtney Kardashian had a kid.
The baby was the focal point of "Babies, Bubbles and Bubbies." Merely typing that makes our brains hurt, but if you're a fan of the show, this episode likely did not disappoint.
After all, does it get any more magical than a new little girl to join the ranks of spoiled, narcissistic, utterly obnoxious b!tches who aren't quite rich enough to live in Manhattan?
To Read More Click Here.